The history of the vibrator can be considered very old because sex is completely a subject related to mental and physical health and therefore sex has been told to the people in many ways by the society. But in reality if you are in a lot of trouble then a good sex or self sexuality can give relief to any troubled person from that trouble for some time. And the market understood this and became a modern vibrator.
The vibrators has had a long and dramatic history, from medical instrument to "personal back massager." It now serves only one purpose for us: to provide pleasure, and in the nineteenth century, vibrators were nearly the sole means of treating female hysteria – a diagnosis given to all sexually unhappy women who, as a result of anorgasmia, began to act inappropriately.
The situation altered in the twentieth century, and these gadgets began to be employed for personal purposes, but they were never (hey, never!) used for military purposes. Advertised as beauty products but it were actually sex toys.
Instead, makers referred to personal massagers' "healing powers" as "circulating stimulation and healthy glowing skin." Vibrators ceased to be "scratches for the back" and became what they had always been – devices for gaining pleasure, only decades later, when female sexuality was still recognized as real and sex itself became more than just an act of reproduction.
1. Arnold massager in 1900s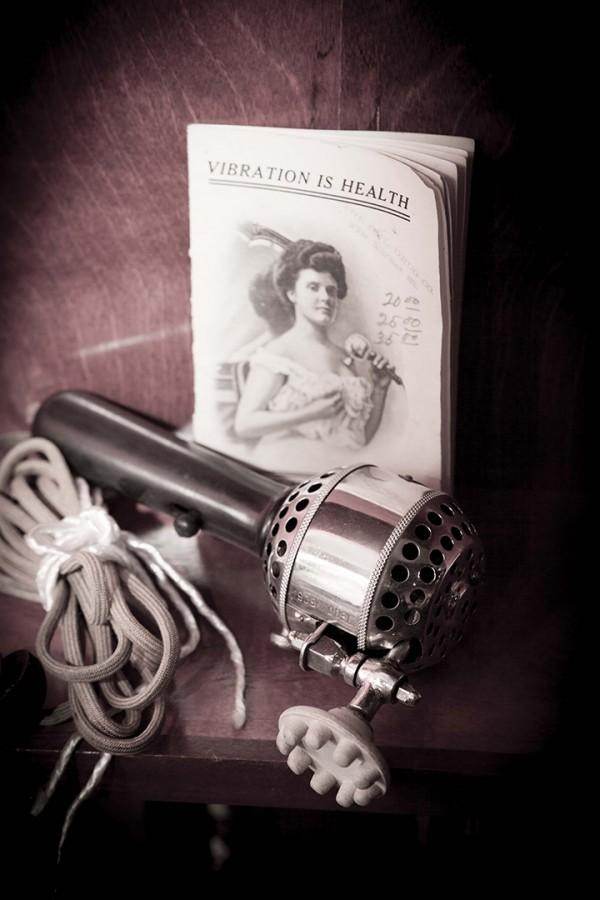 What do antediluvian sex toys have in common with Mark Twain ? Right. Arnold is a masseuse. It was rumored that earlier models used it to enhance their beauty. Arnold's massager, which looked more like a hand mixer, was marketed as a "facial exfoliant that protects eternal youth."
---
2. Polar Cub Vibrator in 1920s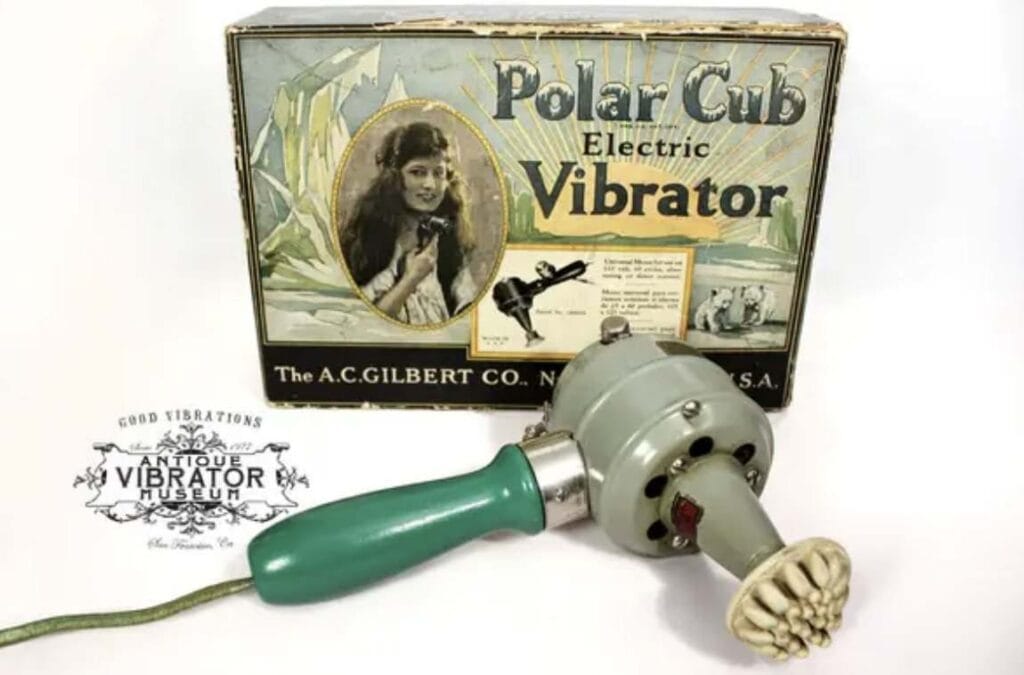 The Polar Cub Electric is simple, with a teal wooden handle and a cloth cord. The vibrator was originally sold as a beauty tool, and the package artwork shows a woman putting it on her cheeks.
The company that made it had presented it differently, which was only to give beauty and comfort. "The patterns are just another technique to give vibration with distinct sensations." Textured add-ons are still employed in new reincarnations of classic games.
---
3. Vibra King Vibrator in 1920s
It has the appearance of a modern hair dryer. It simply does not blow. It was marketed as a "facial beauty product". This vibrator was actually a beauty product but the company designed it in such a way that it could also be used for sexual pleasure.
The folding product became so popular that people started giving it even in marriage. Now you yourself should understand the meaning of giving in marriage, love of love and health of health.
---
4. Wahl Hand-e in 1940s
According to the package, this device is intended to massage the "facial, scalp, and body." It is not indicated which part of the body is involved. This product was substantially quieter than its predecessors, and did not produce the sound of a drill running in the morning.
Not making sound was a special feature of it, due to which it started being liked more in the market than the vibrator. People also wanted to hide their stress and wanted to keep sexual pleasure private. it did both
---
5. Oster Stim-u-lax in 1950s
Perhaps this was designed originally for hairdressers to massage their customers' heads, but normal people quickly discovered that stim-u-lax can also be utilised in the bedroom – particularly by fans of intense pre-games.
Being worn on the hand, it could be used anywhere on the body or someone else could massage you. But it also made more sound than others and was also heavy, due to which it was more popular in salons and in the personal life of common people.
---
6. Andis Vibrator in 1940s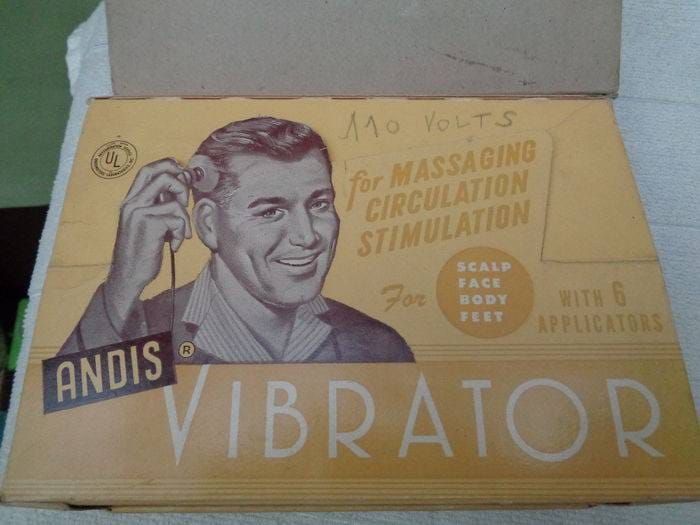 According to the package, the supermechanical Andys increased blood circulation. Yes? Because all personal massagers marketed on the market had to ease muscle tension; otherwise, no one would buy them. However, this instrument came with a variety of fascinating attachments that might be used for a variety of purposes.
---
7. Hand vibrator of Niagara in 1960s
The world's first massager, which included a speed controller, could speed up or slow down orgasm. If you utilised it for its "direct" function, it could cause back pain. It was also the first device that could be used both outside and indoors. True, transporting it from one location to another was inconvenient.
---
8. Vibra Slim vibrator in 1960s
Vibra Slim was just the thing to go in 1960 if you were searching for a discreet way to get off. This was essentially a bar where you could ride or lie on as you exited. Vibrating furniture, a more compact alternative to vibrating couches and tables, is still in use nowadays.
---
9. Tumbler Norelco vibrator 1970s
That was awesome. This product attracted everyone from its inception as not only did it give good vibrations but its grip, thickness and length made people feel good about their sexuality. You can tell just by looking at its structure, how close it was to reality. don't you understand.
It was the first gadget of its sort, a predecessor of the now-produced Hitachi Magic Wand, which could be used to treat muscle tension by some, but is still seen more frequently in pornography.
---
10. Personal vibrator in 1970s
The vibrators that came so far were either too big or they needed electricity to run. But people wanted such a sexual toy which is quite convenient, which can also come in the purse of women or girls and no one will even know. Companies understood this in the 70s and made a personal vibrator that ran on batteries and was also small. It had created a ruckus in the sexual world, which is still coming in new forms.
It was world's first gadget, which evolved into sex toys that are still offered today. As a result, the producers remarked that a sexual revolution had already occurred in the yard, and you can safely call a spade a spade… or massage their feet, as indicated on the packaging.