A Stable married life is like a big ship in ocean. There are so many thing which need to maintain or fix if you want to go highest part of married life. but Keeping the relationship alive means daily effort and paddling against the current of lack of communication, disinterest or sexual inappetence, many more.
1. HIGHLIGHTS GOOD THINGS OF YOUR PARTNER
Often, couples who have been in the relationship for many years fail to highlight the good things about the other person. It is often taken for granted that these are obvious questions that need not be said or have been said on other occasions.
However, making positive comments reinforces the relationship's bonds and for A Stable married life.
2. AVOID USELESS CRITICISM
It's important to keep the golden rule in mind as you embark on your path to a happy and stable marriage: Let positivity win! Allow the garden of praise to flourish by removing the thorns of criticism for harmony to flourish. Remember, sometimes it is best to avoid the potential pitfalls of contentious debate in order to create an environment where love and understanding can flourish. 
3. FIRST, LEARN TO LISTEN
Listening is king in the world of lasting love. This is an essential attribute for a happy, lasting marriage. When we fail to listen to our loving partner, it becomes clear that our relationship may be beset by weak trust and dwindling connection. Recall that keeping the flame of love alive in the wedding dance depends on listening attentively.
4. ASKING FORGIVENESS IS BRAVE THING
Apologizing is an art form in the intricate dance of relationships. It is important to face and heal the wounds caused, especially after contentious negotiations where we steadfastly maintained our position. It becomes imperative to resolve conflict carefully and let it go because poorly closed wounds can reappear at the slightest reminder. Act with compassion, decency and genuine restoration.
5. DON'T MAKE USELESS DEMANDS
It's important to recognize that in relationships, pressure to apologize to your partner after a heated exchange often leads to increased tension. Your partner may be defensive and unwilling to accept responsibility, while you may feel justified in your hurt feelings. Instead, take a step back and give yourself some time to let your feelings settle.
A relationship coach recommends focusing on reducing tension and bringing the subject up again when both parties are more receptive. While communication is essential, timing and strategy are also important.
6. RESPECT YOUR PARTNER'S SPACE 
It is important to make room in any partnership for personal growth, purpose, and warm relationships with loved ones. It is important to strike a balance between self-centeredness and excessive dependence.
Ignoring a couple's relationship in favor of putting yourself first can be harmful. Embrace the strength of diversity while promoting the beauty of individuality. Finding balance in this delicate dance will strengthen your relationship.
7. LOVE THE LITTLE THINGS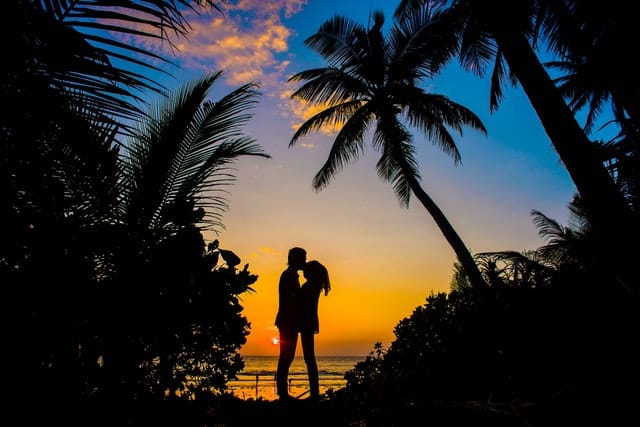 In a relationship, the simple things matter the most! If we don't break the monotony of mundane activities with a little wonder, they can get boring. Even the smallest of details can have a profound impact on our partners.
Spend some time making thoughtful gestures to let them know how much you value and care about them. These apparently unimportant decisions can tell the difference between a happy and unhappy relationship.
8. DON'T PUT EXTRA PRESSURE
When your loved one is going through a difficult time, you should treat them with the utmost care. It is best to give them space rather than requiring constant communication.
Trying to talk to them when they're upset will push you away. Give them space to recover and rest. Have faith that they will return when they are ready, appreciate the consideration and sympathy you have given them during their time of grief.
9. BE BRIEF AND CLEAR, DON'T CONFUSE
There's no need to launch into a never-ending barrage of criticism when dealing with issues in a relationship or to push things too far. Anger between partners can easily be triggered by a simple rebuke such as leaving shoes in the living room. Instead, choose moderation, brevity, and aim to solve the underlying problem. Keep in mind that maintaining a positive and harmonious relationship requires excellent communication.
10. Nurture Your Relationship Without Forcing Change or Imposing Desires
It is normal that your partner behaves in a way that makes you happy in your relationship as well. However, it's important to note that your partner may have flaws, and those flaws won't go away right away. It is better to accept them for who they are and love them unconditionally than to hope that they will change.
Trying to control your partner's behavior can result in resentment and distance in your relationship. Instead, be creative in how you express your needs and appreciate your partner's decisions. Remember that acceptance and respect for each other, not control or manipulation, are the foundation of a healthy relationship.
11. AVOID HEAT DISCUSSIONS
Any healthy relationship should be built on trust, yet it can result in cruelty towards those who are dear to our hearts. When abusive behavior occurs, it is important to set firm boundaries and make calm communication a priority.
Avoid getting into angry arguments about pride or honor, which according to social scientists, can be detrimental to a stable marriage and may even result in separation. Never cross those lines by failing to respect each other's feelings and viewpoints which can jeopardize the trust and love you have developed. Your relationship can grow and prosper if open and respectful communication is made a priority.
12. TRY NEW THINGS
The sands of time can often bring weariness in the journey of marriage, hindering the fire of romance. But don't worry—there's still hope! If you want to protect your bond from prying eyes and hearts, break free from the shackles of routine. Explore new experiences and share them with others!
Enroll in a dance class, play some badminton with friends or go on an unexpected adventure. Let the winds of novelty renew your love because anything is possible when you are having fun with someone.
13. DON'T USE TOO MUCH SOCIAL MEDIA
In the age of pervasive technology, it is very common to see couples spending more time with each other online. Imagine being on a romantic coffee or dinner date when all your attention is diverted by the incessant pings of WhatsApp, causing you to ignore your beloved partner.
It is necessary to make rules to maintain the sanctity of partnership. Let's establish some ground rules, such as refraining from making sudden phone calls or answering mobile messages while eating. Let connection and love triumph despite the distractions of modern technology.
Both out of respect and common sense, attention to the couple must be prioritized. An uninterrupted evening can generate a better feeling of well-being than if attention is being diverted all the time.
14. TO BE ROMANTIC IS THE KEY
A strong and lasting marriage bond is based on love. Welcoming originality and experimentation is essential if you want to keep the passion alive. Your marriage will get new life if you add passion and adventure to it. Drawing inspiration from the Indian philosopher Vatsyana can provide invaluable insight for a happy and fulfilling marriage.
Beyond that, it's important to communicate honestly and openly. May your wildest wishes come true and your life become a wonderful tapestry of beauty and happiness if your journey to marriage is a successful one. If you choose the path of stability in your marriage, you will be on a deeper path to achieving your ultimate goals.
---
About the Author
Manish love to write and he is a Civil Servant. Users can follow Manish on Instagram
---