A Stable married life is like a big ship in ocean. There are so many thing which need to maintain or fix if you want to go highest part of married life. but Keeping the relationship alive means daily effort and paddling against the current of lack of communication, disinterest or sexual inappetence, many more.
1. HIGHLIGHTS GOOD THINGS OF YOUR PARTNER
Often, couples who have been in the relationship for many years fail to highlight the good things about the other person. It is often taken for granted that these are obvious questions that need not be said or have been said on other occasions.
However, making positive comments reinforces the relationship's bonds and for A Stable married life.
2. AVOID USELESS CRITICISM
The number of positive comments must be far greater than the number of negative comments for a Stable married life to be healthy. Sometimes it is best to avoid criticism that can spark heated discussion.
3. FIRST, LEARN TO LISTEN
Knowing how to listen is an essential quality in a Stable married life. Failing to pay attention to the person you are living with is one of the clearest symptoms that the marriage is in a stage of decline or loose confidence in relationships.
4. ASKING FORGIVENESS IS BRAVE THING
Asking forgiveness is an art, especially after a discussion in which we believed we were right, a fundamental question to settle and forget the possible damage caused.
When the wounds are poorly closed, it will be easy for them to reopen at the slightest hint of remembering the situation in discord.
5. DON'T MAKE USELESS DEMANDS
Although one believes in reason, it is useless to demand that the other person apologize to us because when things are still hot, and if he has a modicum of pride of his own, he will never recognize his guilt.
What's more, the situation can lead to the typical push and pull of "and you more." What the coach advises is to try to lower the tension and return to the subject when the situation has calmed down.
6. RESPECT YOUR PARTNER'S SPACE
Each one must have their own space to develop their personal goals, professional objectives or, simply, to be with their family or friends. It is as damaging to focus only on yourself and leave the couple apart from everything, as being excessively dependent.
7. LOVE THE LITTLE THINGS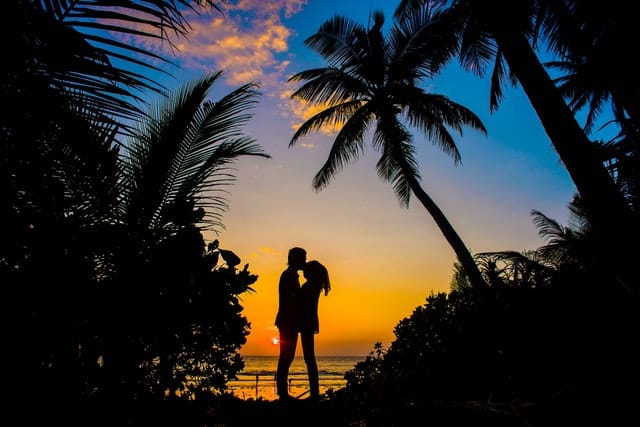 The day to day can make us fall into monotony if the details are not encouraged, although these may seem insignificant at first glance.
Your partner will appreciate the surprises and your concern for details that in isolation seem banal to us, but that together make the difference between a happy and a bitter couple.
8. DON'T PUT EXTRA PRESSURE
When your partner is going through a bad time and decides to cut communication and distance himself, don't push him or her.
If someone is harassed when they are in this situation, the only thing that will be achieved is that they move further away from us. "When he or she feels better again and with room to breathe, he or she will come back to us and will appreciate that we have known how to respect his moment of mourning."
9. BE BRIEF AND CLEAR, DON'T CONFUSE
There is no use recreating in a criticism, insisting all the time on the same thing and raising the tone to seem harder. What may have started as a simple reproach for leaving shoes in the living room can raise the tone to anger between the couple. Be moderate, brief, and get to the root of the matter.
10. DON'T TRY TO CHANGE YOUR PARTNER FORCEFULLY, DON'T IMPOSE WISHES
Sometimes one feel more happy if his or her partner behave according to his/her own wishes. A person's flaws are not going to magically disappear for many years to come. There is no sense in maintaining the hope that they will be corrected, because the tempo will make the opposite happen.
It is best to assume that the person with whom you have decided to live with is unlikely to change, accept with love. It will be the best for both of us. Don't push him or her to behave according to you, Everybody has their own opinion, respect it.
Don't make a robot in relationship, if you want some change then try to talk positively and express yourself but don't force your wishes.
11. AVOID HEAT DISCUSSIONS
Trust can make us extremely cruel even to the people we love the most. If at any time rude or degrading treatments arise, cut the conversation short, and make the reason clear: "I am only willing to speak calmly and without disrespect,". There are a number of red lines that should not be crossed.
Don't make discussion on your pride or respect. Heat discussions are harmful to a Stable married life ever lead to separations according to social scientists.
12. TRY NEW THINGS
With the passage of time, the daily life between the members of a marriage can lead to weariness, which causes other motivations to be sought outside the relationship.
To avoid falling into this debacle, get out of the monotony looking for new things to experience and do together. Dance classes, some games like badminton, a surprise trip… anything goes as long as it is for couples and leisure together.
13. DON'T USE TOO MUCH SOCIAL MEDIA
With the popularization of the use of new technologies, it is not difficult to see a couple sitting having a coffee or dinner and paying more attention to the WhatsApp they receive than the companion in front of them.
It is necessary to put certain rules to the use of technology, for example not answering mobile messages when you are having dinner or not calling someone in the middle of a conversation.
Both out of respect and common sense, attention to the couple must be prioritized. An uninterrupted evening can generate a better feeling of well-being than if attention is being diverted all the time.
14. TO BE ROMANTIC IS THE KEY
Love is essential part of a Stable married life. Sometimes Experimenting with new things will reawaken gift for a Stable married life. Romance and adventure make your married life new and happening.
For that, You should read Vātsyāyana. In Indian Philosophy Vātsyāyana is must when one want a stable married life. in addition, Each one must communicate openly. Married life is pinnacle to fulfill desires and make life beautiful and happy too. A stable married life is the way to achieve supreme goals of life.
---
---