It is amazing little travel guide to Tripura , The place of nature where Cuddling among rich green hills and blessed with beautiful valleys and waterscapes, Tripura is a land of many myths, traditions and mythologies. Located between northeastern India and Bangladesh, the state appear like a small speck on the map of the peninsula of India.
You can summarized Tripura of Shiva and Shakti, Tribal, Buddhism traditions place with own beautiful cultural and natural scenes.
How to reach to Tripura
Agartala is connected with important junctions like Guwahati, New JalpaiGuri, Sealdah and Anand Vihar at New Delhi by some express trains. You can reach Agartala by air also or bus.
By plane: There are direct domestic flights to Agartala from many cities Kolkata, Delhi, Jaipur etc. by IndiGo, Air India etc. Flights cost may be around 7000 INR or around $95,It may be vary.
By Train: The nearest railway station is Manu, 110 km from Agartala.
By Road: From Guwahati to Agartala, it takes 24 hours by bus.
This small and beautiful northeastern state shares only 15% of its border with India. Its craft, traditional music, diversity of cultures and faiths give it an tempting charm.
The majestic Indo-Saracenic palaces, amazing cultures with their own style, the orange festival and thin monkeys are the attractions of the state.
Ujjayanta Palace
The Ujjayanta Palace is the most astonishing structure in Agartala. Built in 1901 by Maharaja Radha Kishore Manikya, a huge palace with snow-white walls is made in the Indo-Saracen style.
Its tallest dome is 86 feet, and its floor tiles and wood ceilings are impressive enough. In front of the palace there is a huge Mughal-style garden, and on either side there are two reservoirs.
Since the palace houses the State Legislature, visitors are limited to 5:00 pm. The building is lighten up at night. The impressive building is the Maharaja Bir Bikram College, which camps over a vast area including the stadium.
Tripura has two main travel routes – southern and northern. You can rent a vehicle or use public transport, which works well. The Sepahijala Wildlife Sanctuary is located 25 km south of Agartala and the trip itself will be quite interesting.
You can also go to the nearest lake, which in winter in December to February is a entice for migratory birds.
The next destination on the southern route is Nir Mahal Palace…
The evening panorama of the illuminated Nir Mahal palace is very spectacular. Located in the middle of Rudrasagar Lake. Built in 1930 as the summer residence of Maharaja Bir Bikram Kishore Manikya, the palace is in Mughal style.
Dumboor Lake – Miracle of Nature
Another very beautiful destination you must visit is Dumboor Lake, is located in the Amarpur, Tripura. It is shaped like a tapered drum & thus has been named after the Damroo of Lord Shiva. This place is no less than a paradise for nature lovers as it is surrounded by 48 small islands lined by beautiful hills & lush green landscape.
Tripura Sundari – the Prakriti to his Purusha
Five kilometers from Udaipur (Yes, Another Udaipur is here other is in Rajasthan), a small town south of Agartala, is the Tripura Sundari or Matabari temple, which is considered one of 51 shaktipiths sacred to the Hindus.
Located on the top of a low hill, the temple rises above the Kalyan Sagar pond, which has a large population of turtles. Tripura Sundari Temple is also called Kurma (turtle) Pith.
Another outstanding shrine is the Kamala Sagar Kali Temple , located on the border between India and Bangladesh.
The Jampui Mountains are the farthest from Agartala on the northern route. Actually it is part of Mizo hills of north Tripura. The path of 250 km will be unusually long. But a long and tiring trip will bring another reward. Spectacular sunsets, orange orchards, cool breezes and a hiker's paradise in the Jampui Mountains a must-see destination for everyone. I should mention that Wangkhmun's lodge is beautifully located and surrounded by trees and gardens. The wide terrace is ideal for stargazing and evening tea.
Boxanagar, the archaeological wonder of Tripura
Boxanagar, which is located in Sipahijala district, is about 32 km from Agartala. The local population initially attributed the remains of an ancient temple of Mansa, the goddess of snakes. The statue of Lord Buddha was discovered and confirmed that it is a Buddha temple.
UNAKOTI TEMPLE
Unakoti, an ancient pilgrimage Centre which is attracting tourists from far and wide. The marvelous rock carvings, murals with their primitive beauty, waterfalls are not to be missed.
Unakoti literally means "one less crore," and there are several myths and faiths about the origin and meaning of the word.
Unakoti is located in the northernmost part of Tripura. Massive 9th century sculptures carved into the rock are located in a deep forest. The old tradition of Shiv-Shakti worship in Tripura is reminiscent of the head of Shiva, 30 feet high. Unakoti is also home to India's largest bas-relief.
DIVERSITY IS BEAUTIFUL IN TRIPURA
Tripura's cultural diversity is amazing. 65% of the population are Bengalis. The rest are divided into ethnic groups, the most famous of which are Reang, Chakma, Halam and Lusai. Each nationality has its own special form of dance.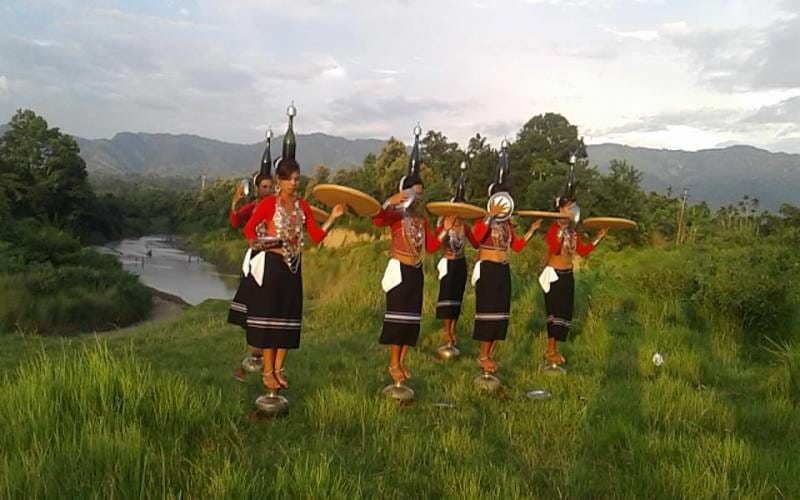 The Hozagiri dance of the Reang or Bru people is perhaps the most striking. Young Reang girls stand on metal pots and hold bottles on their heads. Another striking version of folk dance is the Bengali dance Dhamail.
The Orange Festival takes place every November and attracts tourists. Tripura is famous for its delicate bamboo and reed crafts.
The state of Tripura, which has so much to offer, will make you stay longer than planned. Small, but still beautiful.